Good Tuesday morning to you friends and foodies. It's a misty gray Tuesday here in Chicago, and I'm trying to push that out of my head in favor of thoughts of my camping excursion.
Obviously on of the biggest parts of my vacations is always the food. So in the spirit of vacation equals good eats, I have started meal planning so I can create a shopping list for tomorrow.
I think I have the entire meal plan worked out from Friday night to Monday morning...and reading over it is making me hungry.
So here we go...recipes for this camping trip.
Friday Night:
Meal-
Dinner
Menu
- Grilled Cheeseburgers on Pretzel Buns. Campfire Baked Beans & Smore's for dessert with Hot Buttered Rum.
Yes...Pretzel buns. In my book, there is no better bun for a big thick juicy burger than a stout flavorful pretzel bun. And to my massive joy, there happens to be a bakery on the island we are going to so that means fresh baked bread every day. I think I have died and gone to carb heaven.
Saturday
Meal-Breakfast
Menu-Campfire Skillet Breakfast
Ingredients
1/2 lb smoked apple-wood bacon
4 cups of red potatoes peeled and cubed
1/2 onion chopped
6 eggs beaten with salt and pepper to taste
1 Cup shredded cheddar cheese
Directions
Cook bacon until just slightly firm in a cast iron skillet over medium heat. remove bacon from skillet and set aside. Stir potatoes and onion into the bacon fat. Cover and cook until potatoes are soft. About 10 minutes.
Crumble bacon back into the potatoes, stir in eggs, cover and cook until set. About 2 minutes. Sprinkle with cheese and allow to melt. Serve immediately.
This along with some biscuits and some coffee...I'll be good for the day.
On Saturday we plan on going to the City of Big Bay Wisconsin, so we are going to try and find a cool restaurant there. More on that later.
Meal:
Dinner- Saturday Night
Menu:
8-10 oz Maine Lobster Tails 6 oz Filet Mignon
, Campfire Baked Potatoes and Fresh bakery bread.
For Dessert:
Warm Campfire Baked Apples filled with Caramel.
Campfire Lobster Tails.
I love this recipe to no end. I made it on the last camping trip I took, and it was the only good thing about that trip. Never before had I enjoyed a
lobster tail
that was so flavorful and fell out of it's shell like that.
The lemon flavor permeated through the entirety of the lobster tail to the point where all I had to do was drop the meat from the shell and dig in.
It was perfection in a little red outfit.
My favorite lobster recipe of all time, and that's saying something.
Our Filet Mignon
....despite the fact that I have enjoyed
these steaks
more times than I can account for, it still excites me.
Tender, flavorful aged full trim filet mignon
melts in your mouth each and every time.
These are the
steaks
that dreams are made of.
Combine the two of them...It's culinary insanity.
And for dessert...Caramel Filled Warm Apples. Again, one of my camping favorites. Too easy, too delicious.
Sunday
- The forecast on
Madeline Island for Sunday is NASTY
. Luckily for me, I have a camper I will be taking with so I don't have to sleep on the ground and can enjoy such novel inventions as heat and a warm place to curl up if it's nasty out.
Love camping, but seriously...I'm a bit old for a week of sleeping on a cold wet ground. With as much as I work I can't get sick. So camper camping it is with my mobile hotel.
With Sundays high only making it to 42F and the low hovering around 30F with chances of rain and snow, I am planning on making a massive pot of soul warming beef stew. That's going to cook all day through breakfast, lunch and dinner. I'll share that ROCKIN recipe with you when I return from the trip. Onto the rest of Sunday!

Breakfast:
Griddle Cakes, Sausages and Eggs at the campsite <-- Self explanatory.
Lunch:
Hobo Pies- Magical Recipe right here, you can pretty much make this in any way you like from vegetarian to ham and cheese or pizza. Versatile, easy and delicious. Perfect camp food.
Dinner:
Campfire Beef Stew (See above)
Monday
Meal-
Breakfast Before take-down.
Menu-
Biscuits, Red Eye Gravy and Sausage.
Then we pack it up, and set off for home, but don't return to the grind until Wednesday. Figured a full day to recover from the long drive and unpack was wise.
And with that, I close this long rambling post and leave you with some images of the place I'm going, because it's breathtaking and I'm super excited.
Sea Caves on Madeline Island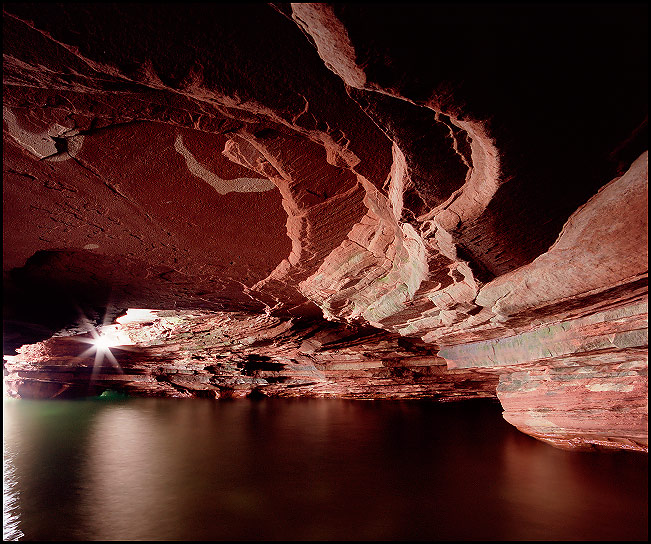 The Lighthouse in Big Bay